For immediate release:
December 12, 2016
Contact:
Mandela Jones
646-214-1031
press@changethenypd.org
Over 130 Feminist Leaders & Organizations Urge NYC Elected Officials to Take Swift Action on Police Reform to Provide Protections for Women
Women continue to experience gender-specific police abuses and impending Trump administration make local action even more urgent, and city should demonstrate leadership with action.

In letter to NYC Council Speaker Mark-Viverito, Public Safety Chair Gibson, and Women's Caucus Co-Chairs Cumbo & Rosenthal, group encourages NYC's women elected officials to lead efforts to pass Right to Know Act
New York, NY
A group of over 130 feminist leaders and organizations committed to the improvement of the lives of women (cisgender and transgender) and gender non-conforming (GNC) people urged New York City elected officials to pass key legislative police reforms to protect women and GNC people from police abuses. In a letter to New York City Council Speaker Melissa Mark-Viverito, Public Safety Chair Vanessa Gibson and Women's Caucus Co-Chairs Cumbo and Rosenthal, the group encouraged the women elected officials to lead the Council to pass the Right to Know Act into law.
"Each day that delays enactment of the Right to Know Act allows the NYPD to avoid much needed reforms and accountability that would be afforded by this common-sense legislation, leaving women across New York City without its critical protections," the letter states. "We encourage you to take courageous, principled action on this issue, ending the delay in delivering these important reforms for women, gender non-conforming people and all New Yorkers by leading the Council to swiftly pass the Right to Know Act."
The full letter can be found at the following link: http://bit.ly/WomensRTKALetter
The letter outlined how women experience gender-specific police abuses and highlighted the increased urgency for the city to take action to "demonstrate leadership by protecting women and gender non-conforming people in their interactions with the police," particularly following the "election of a president who boasts about sexual assault [and] touts hyper-aggressive policing."
As reported by the New York Times, women experience gender-specific forms of abuse during police interactions. Researchers at the CUNY Graduate Center found that young women in New York City experience alarming rates of sexual harassment by police officers, and LGB youth are twice as likely to report negative sexual contact with police. Transgender and gender non-conforming people report ongoing unlawful searches to assign gender, often in the context of street stops. These patterns are consistent with those across the country, as recently highlighted in the U.S. Justice Department's recent report on policing in Baltimore and the African American Policy Forum "Say Her Name" report. The recently filed class action lawsuit against the City for the discriminatory arrests of women of color and transgender women under loitering statute is one example of the continuing, systemic nature of the problem in New York City. Allegations of other police abuses against women as family members, crime victims (here and here), and fellow police officers reflect deeper systemic problems.
The group also clarifies in its letter that the agreement Speaker Mark-Viverito reached with the NYPD falls short of the protections of the legislation for women.
"The Right to Know Act is shaped by women and gender nonconforming people's unique experiences of sexual harassment and assault, as well as unlawful 'gender searches' during police interactions," the letter says. "The agreement with the NYPD disregards these specific issues by excluding key provisions of the Right to Know Act that are necessary to address the power imbalance in police interactions…compounded for women, girls and gender non-conforming people."
"The agreement's exclusion of common police interactions in which officers would be required to proactively identify and explain themselves, as would be required by the Right to Know Act, leaves all New Yorkers without protection, and particularly women," the letter continues. "Proactive identification and explanation of the reason for police interactions are critical to preventing and ensuring accountability for police sexual harassment and assault, which often go unreported because women and gender nonconforming people don't know the identity of the officers responsible."
The letter also draws a sharp distinction that the agreement fails to offer reform regarding coercive and unlawful consent searches, leaving in place issues that the Right to Know Act would help address and relying on underdeveloped notions of consent. "Given the developed feminist discourse of consent in the context of protecting all women from sexual assault, the agreement's approach to consent is outdated and regressive, ignoring the power imbalance between a police officer and a civilian," states the letter.
Some of the organizers and signers of the letter participated in the Council's Young Women's Initiative, which endorsed the policy objectives of the Right to Know Act, and they acknowledged the positive impact of the Council facilitating this leadership. "Women and gender non-conforming people…and their work to advance local police accountability through the Council's Young Women's Initiative was a prideful moment for New York City." The letter urged the Council leaders to help fulfill these critical reforms of the Right to Know Act, envisioned in the Young Women's Initiative.
Despite the fact that a majority of New York City Council members are sponsors supporting the Right to Know Act legislation (including a veto-proof majority on one bill), the legislation has yet to be passed. It was revealed in July that an agreement between the Speaker and former NYPD Commissioner Bill Bratton sought to avoid the legislation. The agreement stripped out nearly all of the priority reforms of the legislation, agreeing to only modify language in the NYPD Patrol Guide and training. However, the patrol guide and training already include rules that are routinely violated with respect to the police abuses that the Right to Know Act would address, as well as other abuses. The agreement has also been unsuccessful in addressing demands for the legislation, as dozens of groups have joined the over 200 organizations who have endorsed it and new Council members have co-sponsored it since the agreement.
The Right to Know Act consists of two pieces of legislation to increase accountability and transparency to protect civilians' rights and safety during their most common interactions with police officers.
The first bill, Intro 182, would require police officers to identify and explain themselves in a range of non-emergency situations where they subject someone to formal law enforcement activity.
The second bill, Intro 541, would protect civilians against unconstitutional searches, by requiring officers to receive proof of consent to searches in which the only legal basis is the person's consent.
The bills are modeled on similar requirements already existing in other states and parts of federal consent decrees. The legislation would help address the accountability and transparency gaps in basic interactions that too often unnecessarily escalate because of a lack of information and respect for New Yorkers' basic civil rights. The White House's Task Force on 21st Century Policing – co-chaired by Philadelphia Police Commissioner Charles Ramsey and including the Tucson police chief, law enforcement experts and community stakeholders – endorsed the policy reforms of the Right to Know Act as ones that should be adopted throughout the country.
Quotes:
"Consent to search legislation is critically important to New York City's women and mothers," said Monifa Bandele, VP and Chief Partnership & Diversity Officer at MomsRising. "As feminists, building a culture that promotes consent on every level of human interaction helps in the fight against sexual assault, harassment and rape. Today, women and girls are struggling for ownership of our bodies in a culture that often objectifies and shames. We urge the City Council to act immediately on this important legislation for the safety and empowerment of all women and girls."
Joanne Smith, Founder and Executive Director of Girls for Gender Equity (GGE) stated: "Now more than ever, we have seen hate crimes targeting young trans and non-trans women of color and gender nonconforming young people. If New York City is going to protect us following the recent presidential election, passing the Right to Know Act is one key step."
Roksana Mun, Director of Strategy & Training of DRUM – Desis Rising Up and Moving, said: "Supporting the Right to Know Act is to stand with women and girls in their rights to consent and have their bodies and presence in public spaces respected. The respect of women and girls needs to be a core value of this city, and reflected in all policies, especially with the NYPD."
Audrey Sasson, Executive Director of Jews for Racial & Economic Justice stated: "As a Jew and a feminist, I am proud to join these women leaders in calling on our city to show leadership in protecting the rights of women and girls. Following the election of a president who boasts about sexual assault, touts hyper-aggressive policing, and targets immigrant and undocumented communities, it is imperative for our city to demonstrate leadership by protecting the rights of all women in our interactions with the police."
Dillonna C. Lewis, Co-Executive Director of Welfare Rights Initiative: "Welfare Rights Initiative supports the passage and proper implementation of the provisions of the Right to Know Act. The girls, young women (cis and trans) and those who are non-gender conforming in our communities need a strong collective of allies to support the Speaker and inspire her to act now. Given the hate-based overtones in our current political landscape, NYC can model basic dignity and justice in all encounters with police and other members of law enforcement by securing passage of the Right to Know Act."
###
PHOTOS: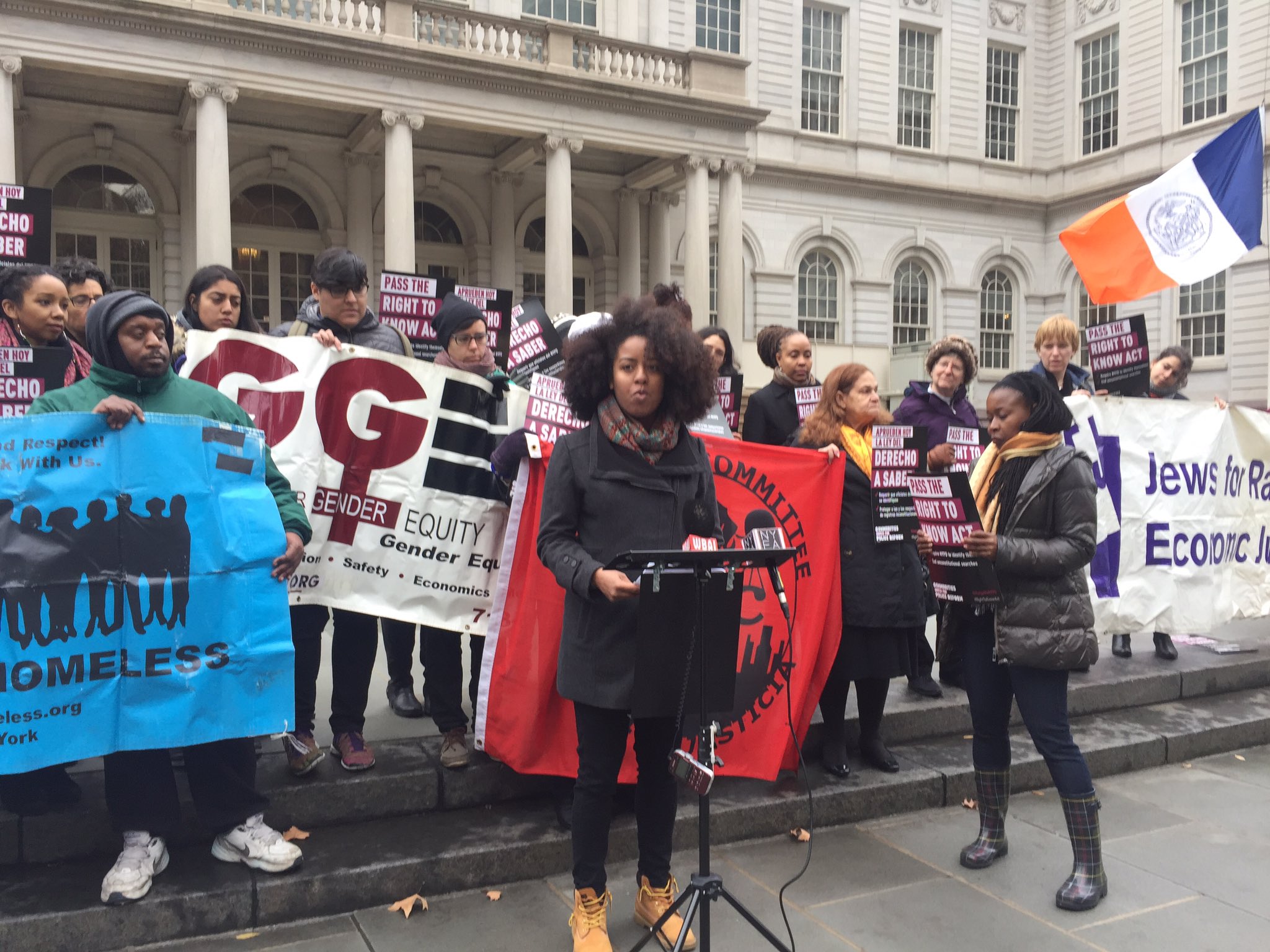 Gloria Malone of Girls for Gender Equity/GGE speaks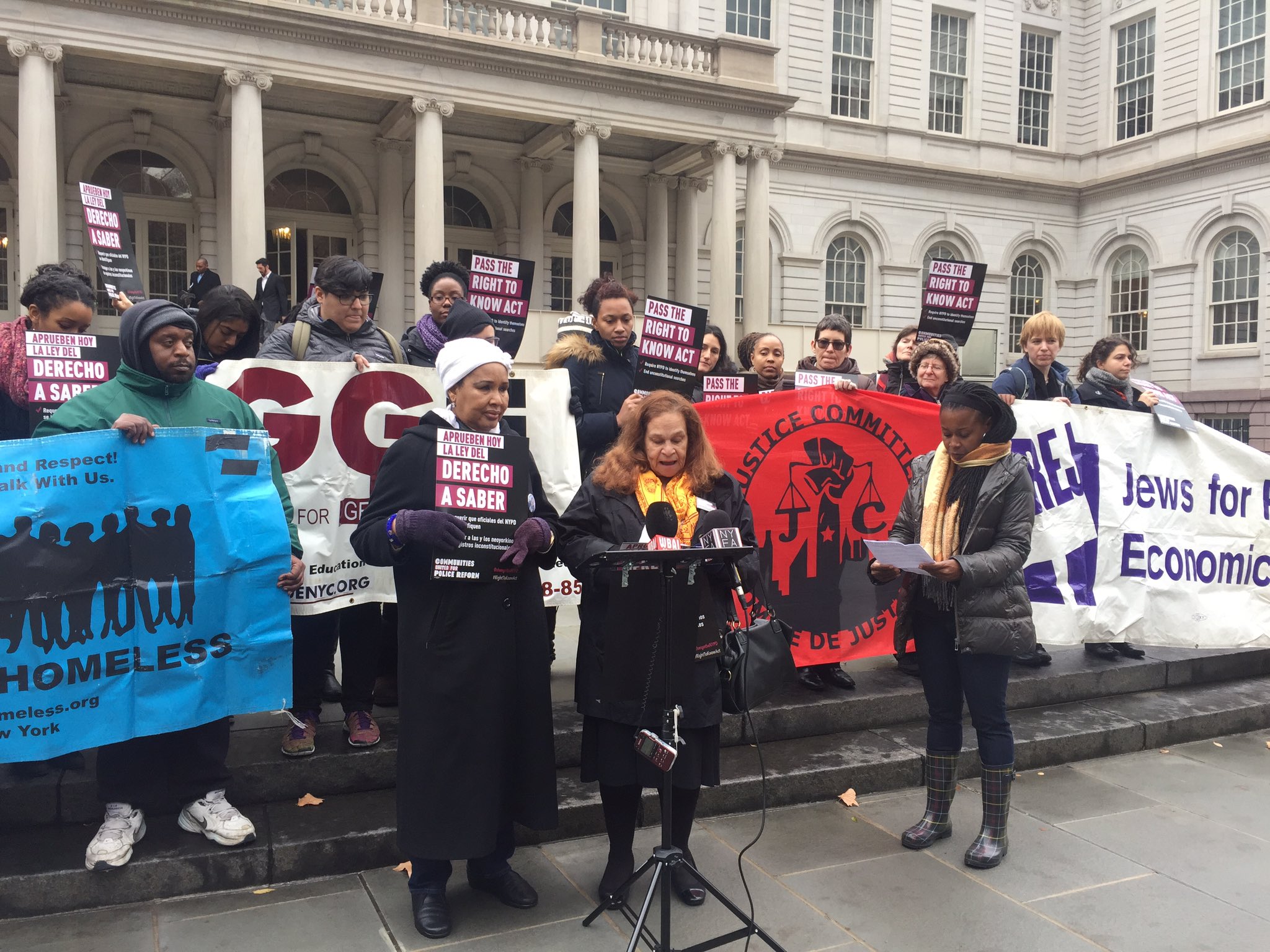 from l. to r. – Hawa Bah & Iris Baez speak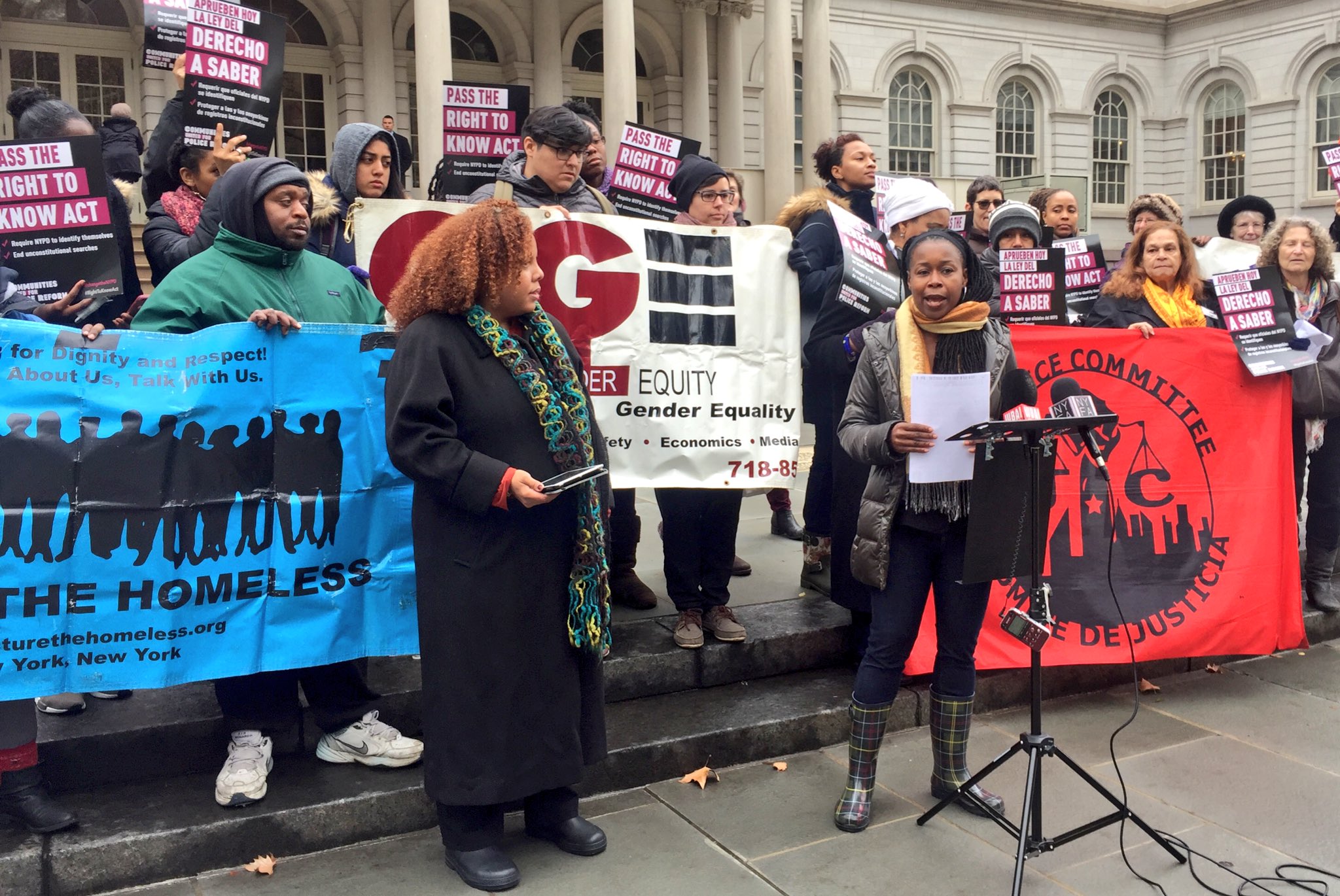 Monifa Bandele of MomsRising speaks and Joanne Smith of GGE on the left.
About Communities United for Police Reform:
Communities United for Police Reform (CPR) is an unprecedented campaign to end discriminatory policing practices in New York, and to build a lasting movement that promotes public safety and policing practices based on cooperation and respect– not discriminatory targeting and harassment.
CPR brings together a movement of community members, lawyers, researchers and activists to work for change. The partners in this campaign come from all 5 boroughs, from all walks of life and represent many of those unfairly targeted the most by the NYPD. CPR is fighting for reforms that will promote community safety while ensuring that the NYPD protects and serves all New Yorkers.
Topics:
Right to Know Act